EACH BOTTLE OF BENECTA CONTAINS 60 CAPSULES (30 DAYS)
OF SHORT CHAIN CHITOSAN, DERIVED FROM CRUSTACEANS.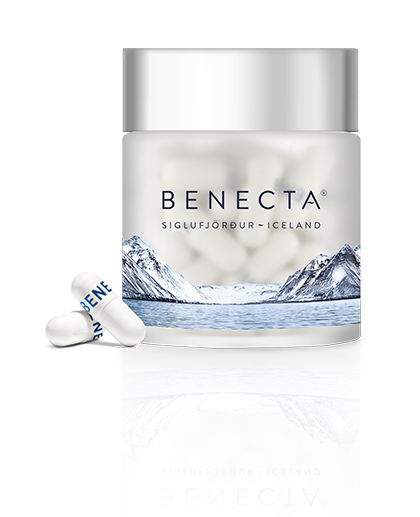 Produced in Iceland with over 10 years' research and
development into the use and benefits of short chain chitosan
on the body as it ages.
Anecdotal evidence suggests that when taken regularly,
just 2 capsules of Benecta a day can help alleviate various
everyday symptoms of older age such as stiffness, lethargy,
and aches.
Made from natural ingredients, short chain chitosan derived
from shrimp exoskeleton, Benecta can be safely taken
alongside any other food supplement or medication.
We don't recommend taking Benecta if you are pregnant
or suffer from an existing shellfish allergy.
---
---
Benecta
Food Supplement
Short chain chitosan
Ingredients: Short chain chitosan (from shrimp), gelatin (capsules)
60 capsules
Recommended daily intake is 2 capsules. Two capsules contain 600 mg of short chain chitosan manufactured from shrimp shell. Do not ingest more than daily recommended dose. Benecta® should not be used as a substitute for a varied diet. Benecta® is not to be used by pregnant women or individuals who suffer from shellfish allergy. The product is to be stored out of the reach of children. Benecta® is recommended for adults over the age of 18 years.
Sourced and packaged in Iceland.
Manufactured by Genis hf., Aðalgata 34, 580 Siglufjörður, Iceland info@benecta.co.uk
Distributor in the EU: Fylkir Ltd, Suite 1, Lower Ground Floor, One George Yard, London, EC3V 9DF, United Kingdom
---
OUR RESEARCH PARTNERS